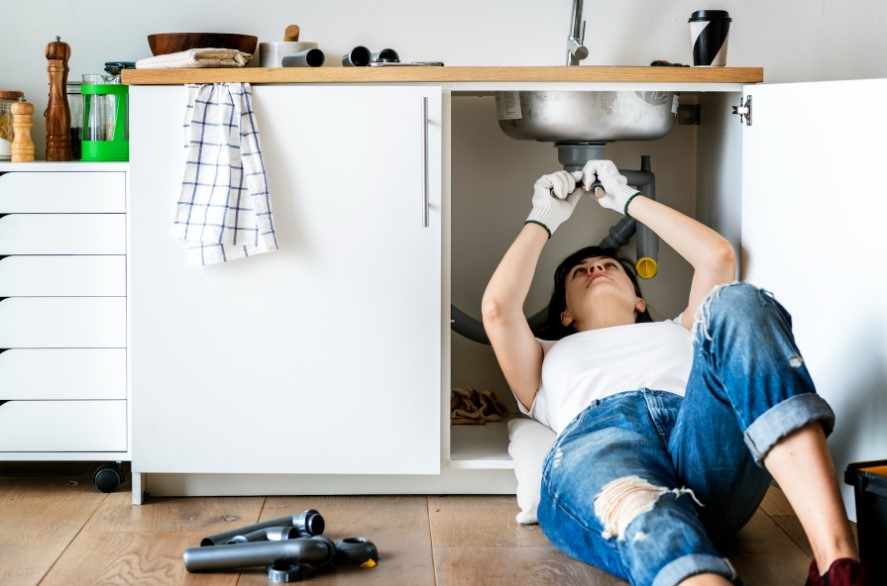 One in ten of us admit to just hiring a professional to tackle even basic home repairs according to a new survey – but around 67% of Brits say they would try and give it a go first. 
The survey comes from online retailer Chums, who polled 1000 UK residents across different generations to understand how confident each age group feels in tackling home repairs and finally put to bed the idea that young people are hopeless at DIY! 
Chums analysed over 100 common home repairs and took the respective average Google search volumes of each one in order to narrow down which specific tasks. 
In order to determine which DIY jobs people generally find the most challenging, Chums analysed over 100 common home repairs and took the respective average search volumes of each one using phrases such as 'how to…." or "tips for…". 
So which home repair tasks have the majority of us running to Google for help?  
Paint A Wall – 18,100 monthly searches 
Shockingly the most searched for DIY task, with over 18,000 searches a month, was how to paint a wall or a room. Being able to update your walls on a regular basis is one of the simplest ways to change the look and feel of your home – and while lockdown did introduce some crazy trends, like the geometric accent wall made famous on TikTok, for the most part it's quite a simple job. 
Fortunately, every generation seems pretty sure they could paint a wall, with 80% of Gen Z and Millennials and 86% of Gen X and Baby Boomers all reporting they would be confident tackling this job. 
Jump Start A Car – 18,100 monthly searches 
Taking a joint top spot with how to paint a wall, it seems not as many of us are confident we could jump start a car if needed – in fact only 37% of the younger generations think they could, compared to just over half of the older respondents. 
If you're not as confident in your ability to jump start a car, luckily there are around 247,000 on Youtube showing you how. 
And according to Chums' research Youtube was the most popular resource across all generations when asked where they would look for home repair solutions if they were unsure. 
Upcycle A Piece Of Furniture – 12,100 monthly searches 
Upcycling furniture has become increasingly popular over the last few years, as more of us look at ways we can reduce the amount of waste we produce and re-use or recycle items to help the environment. Popular apps such as Shpock and Vinted have furthered this trend of selling on furniture or even clothes you no longer use to give them a second life. 
But just because it's a new trend doesn't mean the older generations don't know how to get in on the upcycling game with 53% saying they'd be confident upcycling old furniture – which is 1% higher than Gen Z and Millennials. 
Other Common DIY Tasks 
Remove Carpet Stains – 6,600 monthly searches 

Hang Wallpaper – 2,200 monthly searches 

Drill Into A Tile – 1,900 monthly searches  

Unclog A Blocked Toilet – 1000 monthly searches 

Remove Stripped Screws – 880 monthly searches 
And the tasks that respondents were the least confident about tackling?
Results were the same across both age groups, with upholstering a chair or sofa, repairing a garage door, replacing a door as well as replacing a door lock and lastly drilling into a tile being the jobs we'd be less likely to tackle.
What Stops Us From Trying It Ourselves  
Around 70% of Baby Boomers and Gen X reported that a lack of necessary skills was the main reason they don't carry out their own home repairs, with other reasons being a lack of patience or the necessary tools. 
Interestingly none of the respondents for that age group said they lacked the required free time for DIY, compared to just over 10% of the younger generations. 
However around two thirds of both Gen Z and Millennials still reported a lack of the necessary skills as the main reason they don't attempt home repairs or DIY. 
ENDS 
About Chums:
Chums provides comfortable and stylish clothing and footwear and a wide collection of homeware that appeal to the 65+ UK market. The company is based in the Knowsley Business Park, Merseyside and continues to be a privately run family business. Find out more info at chums.co.uk
Related Posts