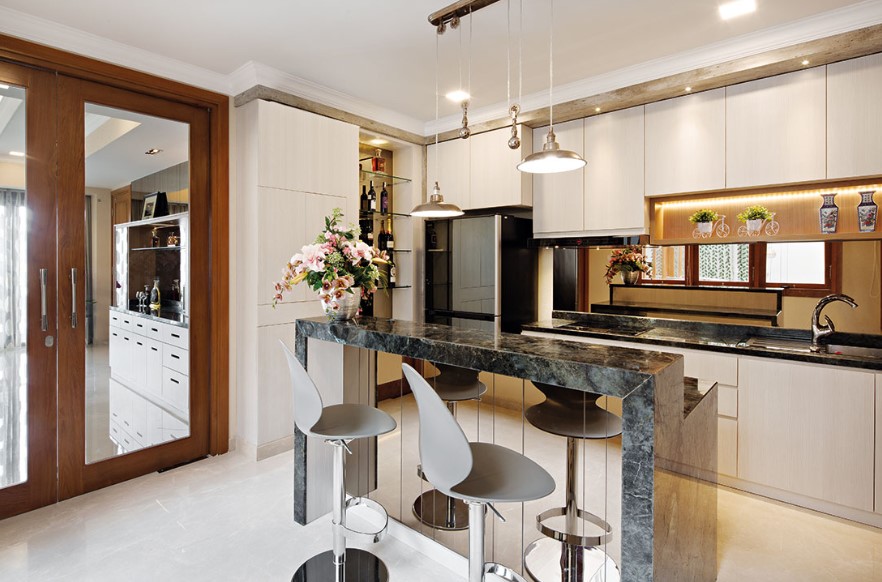 When it comes to entertaining, having a home bar is one of the most sophisticated ways to impress your guests. But finding stylish ideas for your bar can be a challenge. That's why we've put together this list of five trendy design elements that will instantly upgrade any home bar from basic to luxury status! From statement lighting and marble countertops to flamboyant artwork and luxe materials, these chic decorating tips will surely add an elegant flair that'll make every cocktail hour unforgettable.
1. Use Wasted Space
Many homeowners have a lot of unused space in their home bars that you can transform into valuable and stylish storage. Add floating shelves or open shelving to store barware, glasses, or other decorative items. You can also utilize space underneath the countertop to hang hanging glass racks or use it as a mini wine cellar for your favorite bottles. Alternatively, if your bar is in an open-air setup, think about installing a stylish rolling cart that you can use to transport items from the kitchen or dining room.
2. Add Statement Lighting
Lighting plays a significant part in setting the mood of a space, and this holds especially true for home bars. Opt for a glamorous chandelier or statement pendant light to create a luxurious atmosphere. Choose a style that complements the rest of your decor, and ensure it's the right size for the space, so it doesn't overpower the entire room. Dawnvale Group home bar specialists can help you pick the perfect light fixture to bring your space to life. The key is to ensure any lighting you choose is bright enough to highlight the bar area but not so bright that it becomes a distraction.
3. Upgrade Your Countertops
Consider swapping your basic laminate countertop for something more opulent for an ultra-luxe look. Marble is an excellent choice and comes in various colors, so you can find the perfect one to match your decor. If marble is out of your budget, quartz is another excellent option with various colors and textures for an elegant finish. The best part about upgrading your countertop is that it'll instantly elevate the entire look of your bar, no matter what other changes you make.
4. Get Creative With Artwork
Adding artwork is a great way to make any home bar feel more special and exclusive. Consider classic framed black-and-white photographs or modern abstract prints—whatever style suits your taste best. You can also switch it up by displaying vintage barware and cocktail accessories on the walls for a unique look. Whatever artwork you choose, make sure it's appropriately scaled to the size of the room so that it doesn't get lost in the space.
Alternatively, you can outsource to an interior design service specializing in home bar design. Dawnvale Group can offer expert guidance on selecting the suitable artwork, lighting fixtures, and other decorative elements which will give your space a chic, modern look.
5. Incorporate Luxe Materials
To add a touch of luxury to your home bar, incorporate high-end finishes like brass accents or velvet upholstery. For a more subtle look, use glass and mirrors to create an illusion of space. These luxurious materials will instantly elevate the atmosphere and give your bar that upscale feel you're after.
There are endless ways to upgrade your home bar. From statement lighting and marble countertops to flamboyant artwork and luxe materials, these chic decorating tips will instantly transform any basic space into a luxurious home bar that you and your guests will surely enjoy.
Related Posts