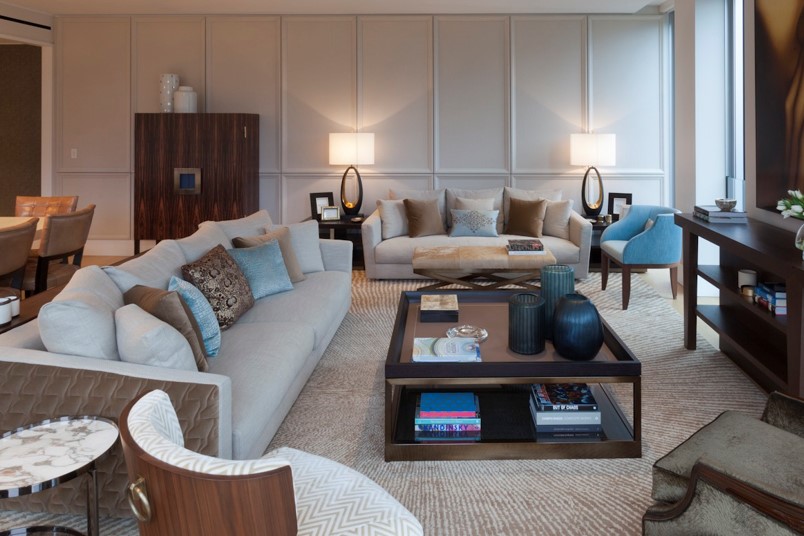 Designers and artists have much in common. Both must have an unmistakable sense of harmony; both create something that didn't exist before. However, there is a difference.
In their drawings or paintings, artists express their emotions, feelings, and attitudes, trying to convey them to the viewers. Product designers, when creating utilitarian things like furniture, deal with more tangible matters. Furniture must be not only beautiful but also functional. There even is a special word for this – beautility, i.e., beauty merged with utility.
Attilio Zanni, the co-founder and the chief designer of Bellavista Collection, knows everything about beautility. His brilliant talent surely is among the key factors of the brand's long-lasting success. The Italian luxury furniture he has been creating for more than a decade is a great example of how exquisite looks can be combined with practicability.
Interior designers and architects also work with people's needs in mind. They compose diverse interiors of homes in such a way that each of them is perceived as a whole, which is much greater than just a sum of separate items they use. It's a special talent.
Andrea Ballerini definitely has this talent. He is an extremely gifted architect and the head of AB Interiors – the well-recognized design firm based in NYC and Miami. Since 2001, his team has worked out designs for countless dwellings from A to Z. i.e., from general concepts to fully furnished rooms, waiting for their owners.
These two professionals are good friends. No wonder that a few years ago, when Mr. Ballerini was working on a new image for a luxurious home in London, he picked a number of furniture pieces from Bellavista Collection.
Ivory, Sand, Cream and A Bit of the Sky
It's quite obvious that selecting the right color palette for a room is extremely important. Any psychologist will confirm that colors and shades, which you constantly see at home, influence your mood – actually, you needn't be an expert to realize this.
Did you ever notice that when you walk into one room, you feel calm, while in another one you may become excited and even agitated? Colors are everything to do with this phenomenon.
The aim of Andrea Ballerini's London project was to make the home feel tranquil and peaceful, yet warm and welcoming. That is why, he included such tones as sand, cream, and ivory, with just a bit of blue into that particular color palette.
These colors are perfect for creating a peaceful and relaxing atmosphere we typically expect from a genuine home with a capital H.
The colors of wood the furniture pieces are made of are also of great importance when it comes to the harmony of colors. All Bellavista's wooden furniture is made of solid wood, veneered with a wide variety of gorgeous-looking wood species, including exotic ones, such as ebony or rosewood.
The architect chose magnificent ebony and smart-looking dark Canaletto walnut.
Let's take a brief look at just a few items from Bellavista Collection he picked for the living zone of the apartment. Most of them were modified specially for this project.
The bar unit named I BAR has customized handle details. Also, the frontal parts of its drawers are clad in blue leather, while the options usually offered include Sand, Caramello, Rosso (red), Caffè, and Testa di moro (black).
The outer surface of this remarkable bar unit is veneered in ebony. Along with ebony, Bellavista Collection offers eight more ones, including rosewood, grey sukupira, as well as various kinds of oak and walnut.
The external structure of MADIA sideboard is also veneered in ebony wood, which isn't on the list of the available options: it includes oak and walnut, both natural and stained.
GRACE WOOD sofa was designed in 2016, yet remains extremely popular: its rear back with the highlighted texture of wood looks irresistibly attractive. Dark Canaletto walnut perfectly harmonizes with the velvet upholstery of ivory and cream colors.
By the way, if you want to have this lovely sofa at home, selecting upholstery for it will be a real quest: there are tens of variants available, both for leather and fabric. In addition, you'll be asked to choose among three sizes.
BICE, a stylish three-legged dining chair with blue fabric upholstery, serves as a highlight. Designed in 2012, this chair is a long-standing bestseller, and for a good reason. Shaped like a compact armchair, it is very cozy.
It's difficult to believe, but BONAPARTE is even 'older' than BICE: this coffee table 'was born in 2011. It's a perfect example of how masterfully Bellavista combines different materials.
The metal structure (cast brass with antique bronze finish) goes extremely well with a smoked glass on the lower shelf, solid moka stained ashwood on the top, and hazelnut-colored leather on the top insert.
One more well-known item chosen for the London project is TOSCA floor lamp. Its elegant classic appearance made TOSCA one of the most sought-after Bellavista's lighting fixtures ever since the Salone Internazionale del Mobile 2012. However, in 2022 this lamp has been restyled; the new version will be showcased at the same trade fair in June.
TOSCA's structure, made of hammered cast brass, looks really great together with the silk lampshade. You can opt for a linen one if you wish – Bellavista offers two options, which are equally attractive. To make the lamp blend into the entire ensemble, it has a custom-made blue electric cord, instead of the regular one, which is red.
The elegant BAROCCO wooden wall paneling padded in fabric unites all the furniture pieces in the room into a single whole.
Along with these pieces, Andrea Ballerini ordered several bespoke pieces, which were manufactured according to his own designs in Bellavista's workshops.
The end result turned out brilliant indeed. The London apartment became a place with a really restful atmosphere. Everyone in Bellavista Collection, from the chief designer to craftspeople, is glad that their efforts contributed to this amazing project.
Related Posts